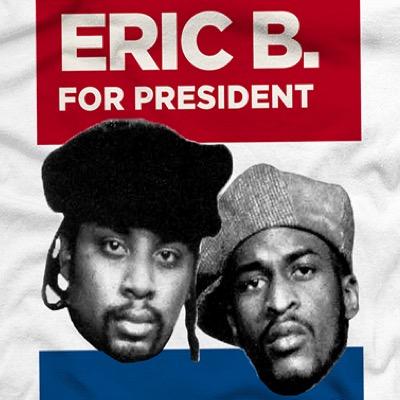 Art of Rhyming: Lyrical Breakdown
Artist: Eric B. & Rakim
Song: Eric B. is President
This week, 30 years ago, hip-hop music changed for good. While it would be easy to list the top 5 Rakim songs, or do another "goat" listing with him at the top, I thought it more important to breakdown why a generation of legendary emcees claimed that Rakim changed the way rhymes were written. The best way to do that is to literally breakdown the writing of William Griffin, aka Rakim.
Eric B. & Rakim's debut album Paid In Full dropped in the summer of 1987 and it was the complex rhyme schemes and rich content that Rakim provided, which changed the way artists put together their rhymes. Paid in Full showcased Rakim's multi-syllabic lyrical delivery and the idea of a rapid, continuous flow, based around deeply woven rhyme structures (incorporating internal rhymes and sophisticated metaphors).
As legendary emcee, Masta Ace says, "Up until Rakim, everybody who you heard, the last word in the sentence was the rhyming word, the connection word. Then Rakim showed us that you could put rhymes within a rhyme, so you could put more than one word in a line that rhymed together, so it didn't just have to be the last word (Edwards, pp. 105)."
For context, the 1986 hip-hop scene was dominated by Run DMC and The Beastie Boys. Legendary groups in their own right but nowhere near the lyrical prowess Rakim was about to bring. Note the rhyme scheme in My Adidas by Run DMC.
Now the Adidas I possess for one man is rare (A)
myself homeboy got 50 pair (A)
got blue and black cause I like to chill (B)
and yellow and green when it's time to get ill (B)
I used this example because it is typical of Run DMC, Beastie Boys, LL Cool J and the leaders of hip-hop in 1986. Compare that to the following by Eric B. & Rakim on "Eric B. is President";
I don't bug out or chill or be acting ill
No tricks in '86 it's time to build
Eric be easy on the cut no mistakes allowed
Cuz to me emcee means move the crowd
I made it easy to dance to this
But can you detect what's coming next from the flex of the wrist
Say indeed and I'll proceed cuz my man made a mix
And if he bleed he won't need no bandaid to fix
His fingertips sew a rhyme until there's no rhymes left
I hurry up because the cut will make 'em bleed to death
Since this is a typical rhyme pattern of Rakim's first album, let's break it down.
I don't bug out or chill (A) or be acting ill (A)
No tricks (B) in '86(B) it's time to build (A)
The first repetition is "chill" and "ill", so we will call that the (A) rhyme. Then Rakim came with the (B) rhyme "tricks" and "86" hitting you back to back in the start of the second line before coming back to the (A) rhyme with "build". It is a beautiful line, rhyme wise, syllable wise and contextually.
Eric be (A) easy (A) on the cut no mistakes allowed (B)
Cuz to me (A) emcee (A) means move the crowd (B)"
In the next line Rakim uses "Eric be easy" on the cut as a double meaning, of course, because Eric, his DJ is "being easy" as he cuts records, while his name is Eric "B".  In this line the "Eric B" could be called the (A) rhyme and the word "easy" quickly follows making two (A) rhymes.  He  matches "me" with the "be" and "easy" with "emcee" in the next line.
Not only that, he is ALSO using alliteration with the "Mistakes", "Me", "MC (which for this article is spelled emcee)" and "Move". This is all before getting to main rhyme which is rhyming "allowed" with "crowd". In these two power packed lines, he has four (A) rhymes, two (B), the alliteration with the letter M and then the groundbreaking line which is still quoted today "MC means move the crowd".
After these four lines it would be easy to settle for an ordinary couplet (two lines) to follow. But no, he takes it to another level.
I made it easy to dance to this (A)
But can you detect (B) what's next (B) from the flex(B) of the wrist (A)
The reason we see a simple line with "I made it easy to dance to this", is because it is a set up line. This is a slowly syncopated line which gives you a moment to anticipate the incredible follow up line we see above. The (B) rhyme in this line is a purposefully placed internal rhyme scheme meant to delivered in a rapid fire style (detect, next, flex) before landing back on the (A) of "wrist".
As we get caught up in the rhyme schemes, it is easy to forget he is always telling a story. "Eric B. is President" is a prop giving ode to Rakim's DJ and this is who has the power to keep you guessing what's next from the flex of his wrist.
Say indeed (C) and I'll proceed (C) cuz my man made (D) a mix (A)
And if he bleed (C) he won't need (C) no bandaid (D) to fix (A)
Normally after a couplet, especially in 1986, the rhyme scheme would stop and the emcee would start with a whole new scheme. In this case, however, after Rakim landed the "wrist" rhyme to end the last line he drops two internals with "indeed" and "proceed" before coming BACK to the (A) rhyme from the last couplet by using "mix". He is stringing along the (A) rhyme scheme and packing in more rhymes internally which he continues to do in the next line by matching the (C) words, "indeed", "proceed" "bleed" and "need" before finishing off the fourth (A) rhyme with "fix".  He made it sound even richer to the ear by adding the multi-syllablic or compound rhyme of "man made" and "bandaid" before sewing up the (A) rhyme perfectly.
His fingertips sew (A) a rhyme until there's no (A) rhymes left (B)
I hurry up(C) because the cut (C) will make 'em bleed to death (B)
In this couplet, the (A) rhyme is so subtle it's easy to overlook it. The "sew" and "no" are simply complimentary to the scheme which accentuates the (C) and (B).  The (C) rhyme here acts as the powerful internal before coming back to the main rhyme of "left" and "death" which acts as the (B). With these internals, Rakim also is throwing in a double entendre or as we hip-hop heads often simply call it, wordplay. Remember he is talking about his DJ and how there is blood but he doesn't need bandaids and sews rhymes with his fingertips and such. So he finishes the metaphor by saying that he has to hurry up because the cut is bleeding so bad. The double entendre is that "cut" plays as both the physical cut which bleeds but "cut" also means song, record or track, and it works perfectly here for both meanings.
Again, three separate rhymes in two lines while keeping to the concept of how dope his DJ is.
In these few bars, you see Rakim introduce us to:
His DJ (Eric B.)
Internal Rhyme Patterns (guess, next, flex)
Alliteration (me, mc, means, move)
Compound Rhymes (Bandaid, Man Made)
Stretched out Rhyme Schemes (this, wrist, mix, fix)
Double Entendres (cut)
This is one half, of one verse, off of Rakim's debut single in 1986. Let that sink in.
While many have and do build their rhymes in this way now, it's only because they are inspired by those that Rakim inspired. This song was the blueprint for modern emceeing. And he didn't stop there. If you are not familiar with the R, or if this breakdown has given you a new way to look at the way he wrote, please allow yourself to listen closely to some of his other classics. When you hear If you hear arguments on who is the greatest emcee, the top rapper, the goat…please feel free to reference this article as it puts a science to the art of rap, just like Rakim meant to. — Jeff Walker
Follow the Leader
Microphone Fiend
I Know You Got Soul
The Ghetto
Paid in Full
My Melody
Jeff Walker's music has been played on TNT, ESPN, Fox Sports Radio, The Staples Center, Dodger Stadium & 60 Minutes. To learn more visit artofrhyming.com and rhymecology.com
Tags: Art of Rhyming, eric b. rakim, Golden Era, Jeff Walker, Paid In Full, philaflava, rakim
---------------------------------------------------------------