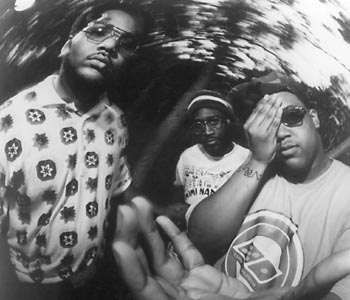 Stream: De La Soul "Breakadawn"

"Breakadawn" found its way to my ears by surprise in August of 1993. I had given up hope of hearing new music by either A Tribe Called Quest or De La Soul, whose most recent releases up to that point (Low End Theory and De La Soul Is Dead, respectively, both released in 1991) may as well have been one of my grandfather's pre-stereo jazz albums. My adolescent attention span, admittedly warped by a partial obedience to local tastemaker friends and cousins who were obsessed with discovering that ol' next shit, would not allow me to remain perfectly loyal to artists who dematerialized without so much as a farewell speech. De La Soul was always a hard sell anyway.
Anytime I tried to play De La Soul Is Dead around my friends they would instantly transform into a less violent version of the naysaying hooligans depicted in the album's skits.  I held my ground, gaining support from the girls once "Rollersating Jam" came on, but inevitably my tape would be tossed aside in favor of Onyx. Although De La Soul Is Dead saw the group don hoodies, adopt more conventional haircuts, and rap a little bit more aggressively over slightly harder beats, they were still viewed by many as eccentric bohemians. By  mid-1993 this was a problem, because the only Native Tongue-related joint out was Beatnuts "Reign of The Tec" and if a song didn't have a shouted chorus and a video featuring burning trashcans, it didn't connect with mixed company.
I had no idea what to make of "Breakadawn" when I first heard it played late at night by DJ Red Alert. It came on my stereo while I was half asleep. It isn't the kind of song likely to rouse anyone on the cusp of a dream state, either. I had developed an idea in my head about how a song from a newly reinvented De La Soul might  sound, and "Breakadawn" shattered it. I remember wondering which precocious new jack rap group recorded this strange yet soothing song that seemed to go on forever. I drifted to sleep before I could hear The Propmaster review the playlist, but after a few weeks the song began getting its well-deserved burn during daytime hours on the three stations in NYC that played rap and I learned that my heroes had returned. I worked up the nerve to rack the cassingle from The Wiz and played it every day, wanting so much to unlock its mysteries.
I understood that I loved it, that it was an unusual type of banger that my friends would either ignore or mock without mercy, and that Pos and Dove ripped it even though the lyrics seemed as cryptic as ever.  All of these factors added to its appeal. I was able to identify the two main samples with ease because Smokey Robinson's "Quiet Storm" was the theme song of the WBLS evening show of the same name, and Michael Jackson's "I Can't Help It" was still in regular rotation on my parent's quadraphonic hi-fi. The drums were familiar — though at the time I wasn't versed enough in common breaks to identify their source by name — as was Biz Markie's "ah one-two, ah one-two." I loved how the song's fused elements combined to form a sound that floated and gushed at once, sounding as radiant and inspiring as, well, sunrise.
The only remaining challenge was to decipher all of the lyrics, a task I have not yet completed. At the time, a few of De La's frequently revisited themes stood out, like  a yearning for solitude and serenity, the wisdom gained from earning one's keep as a touring musician, and landing punches on heckling bullies at shows. None of these concepts or images are spoken about in a straightforward manner; the song might as well be written in its own obscure dialect. Autobiographical details are rendered opaque by unconventional phrasing and syntax that barely computes upon a cursory listen; intricate metaphors are stretched across several bars only to be suddenly abandoned for the next idea or image; references to people and places that figure significantly in the lives of the group members only add to a murkiness of meaning.
Listening to "Breakadawn" nowadays I hear turmoil and resignation alongside proclamations of optimism and determination; the group is exhausted from touring; impatient with the diminishing returns that result from investing all of their time and effort into an uncertain career; and disheartened by the impending dissolution of their Native Tongue alliance. But they are cognizant of their artistic and personal maturation, proud of their faithfulness to their core audience's wishes and their humble perseverance in an increasingly diluted market. Like their parents who toiled for a better life than the kind offered by the crumbling blocks of the Bronx and Brooklyn, they rise with the sun on their way to work, hopeful that  labor will bear the fruits of comfort and security. Eventually, they see themselves rising to watch the sunset just to appreciate the sight  for its own sake.
Don't be misled, however. De La Soul do not consider themselves to be everyday folks, exactly. They feed their families by creating and performing the kind of music they used to make for free. Their sunrises are not the same ones that everyone else sees. When Pos, Dave, or Maseo bear witness to the glory of morning, they are travelling to gigs in exotic lands, or returning home from marathon studio sessions and interviews.  In a way, "Breakadawn" is an elaborate send-up of the loud, brash, braggadocio perfected by the First Priority Music artists that De La adored and often cited, like Positive K, MC Lyte, and the Audio Two. Those artists shouted their regal status right in your face over the most basic pounding tracks, as if daring you to contradict their claims. De La Soul asks that you make your way through a thicket of abstraction to arrive at message. The idea is that performing this labor makes you a worthier fan; you get extra points  if you risk the respect of your peers to keep listening. — Thun
Tags: analysis, de la soul, lyrics, thun
---------------------------------------------------------------