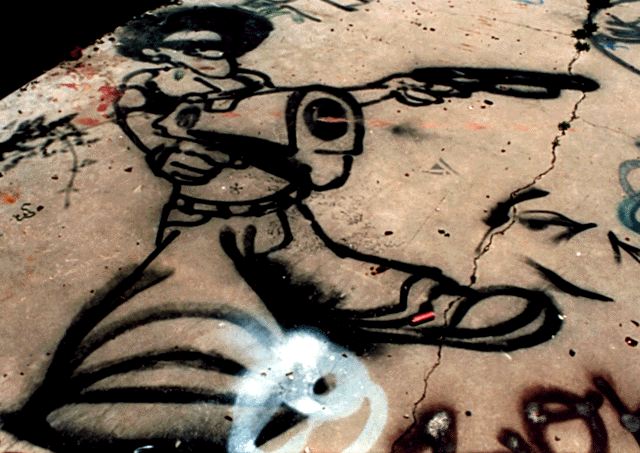 (Or How We Can Learn To Stop Worrying And Bump The Bomb)…
Waka Flocka Flame "Live By The Gun"

Celph Titled "Eraserheads"

Producer/rapper/author J-Zone1 helmed a short-lived but excellent blog over at Dante Ross's site; his writing is filled with praise for "guilty pleasures,"  rappers whose simplistic or seemingly ignorant approach results in their absence from high-minded discussions of great music. J-Zone asserts that personality is key and the right combination of charisma, humor, and eccentricity is often more memorable than artistic pretense or technical prowess. He reasons that certain "bad" rappers are able to infuse their personality into the very structure of a song; their gritty deliveries, unsophisticated lyrics, and bizarre ad-libs function as additional instrumentation; violent and/or profane content adds a visceral thrill.2 I call this "The Tim Dog Effect" after the  Bronx emcee of "Fuck Compton" fame that J-Zone praises for his ability to turn his bare-bones rhymes and even a series of grunts3 into a great song.
Critics that accept The Tim Dog Effect as one valid indicator of musical quality are better able to objectively assess a rapper's work than those that zealously insist upon the adoption of universally applicable rubric for judging lyrics4 or who denigrate entire discographies at the first hint of objectionable content. Listeners can and should be guided towards objective methods of understanding and appreciating rap; this must logically entail discussions that focus on issues of context, symbolic representation, and  implication.5 Criticism that places well-executed vocals in high regard and lauds artists for their responsiveness to the listener's desire to be entertained should not be marginalized.6 Two recent releases that I've come to enjoy after a period of initial skepticism, Celph Titled and Buckwild's Nineteen Ninety Now and Waka Flocka Flame's Flockaveli, epitomize the Tim Dog Effect but the online reception cultures7 surrounding these albums are hesitant to treat them as such, in effect underrating their finer points.
Nineteen Ninety Now and Flockaveli are certainly aesthetically different. The former sees Celph Titled rhyming over previously unused Buckwild beats from the '94-'95 era, the very epitome of that ol' boom-bap. The latter has Waka Flocka Flame paired with decidedly modern rumbling "post-crunk"8 beats courtesy of Lex Luger and others. It is not entirely accurate to characterize these albums as a pair of diametric opposites, however. Aside from their shared fascination with meat-and-potatoes gun violence and raunchy sex talk, both albums express clear disdain for prevailing mainstream music trends, articulate a pro-indie ethos, and are consciously interested in reviving and revamping the music of a past era.9 The problem is that the increasing fragmentation of hip-hop fans into regional/sub-genre networks makes it impossible for all of us to sit together at one table and enjoy some hardcore, no-frills, menacing rap shit. That's wack because I remember when hard-rocks and college kids were both going crazy for "Rebel Without A Pause" and again, almost inexplicably for  Bonecrusher's "Never Scared" so many years later.
The online reviewers, almost as if collaborating on wartime propaganda, conjure up a gulf between imagined antagonistic audiences. These mutually reductive generalizations are formulated from a distance, in a manner that is cold and indirect. The reviewers that praise one album have generally not reviewed or otherwise acknowledged the other  but in defending their respective choices they almost always resort to the construction of a hateful straw man adversary. Waka's advocates burn Method Man in effigy as a catch-all representative for any backpackers who might foolishly deride him for lyrical simplicity10, claim that it is currently fashionable among purists to hate on his music11, and imply that the record's detractors are uptight over-cultured killjoys.12 Celph's supporters, on the other hand, shower us with unending praise for spry salt-of-the-earth old schoolers who will instinctively trot out to greet this album with their tongues hanging out in true Pavlovian fashion; Nineteen Ninety Now is frequently credited for reviving the entire genre from the death spell inflicted on it by the young and/or ignorant.13
Yet for all these daring preemptive strikes these reviewers are by and large chasing windmills; people who reviewed these albums rarely exhibit the extreme form of snobbish elitism or the mindless uncultivated adolescent conformity caricatured in the defensive appraisal of these artists.14 Reviewers, whether pro or am, chiefly stick to celebrating Celph's racy punchlines, Buckwild's boom-bap, Waka's snarly shouts and ad-libs, and Lex Luger's post-crunk greatness. Unfortunately, this cautious, apologetic approach fails to draw attention to the aspects of these albums that make them worth revisiting in the same way as vintage Tim Dog material. Flockaveli is not all menace and frivolity; there's a lot of disconcerting paranoia and alienation on display as well.15 "Fuck Dis Industry"16 Â is one of the strangest, most compelling rap songs I have ever heard; the fact that it makes sense in light of Flaka's influences does not make his hazy whispered stream of consciousness any less creepy or uncomfortably funny. This is not your average rap album.
Psychodrama and idiosyncrasy are everywhere apparent on Nineteen Ninety Now as well. Where Flaka's lyrics are sparse and dwarfed by his ad-libs, leaving much to the listener's imagination, Celph Titled stomps on almost every single available second of music. He thunders over Buckwild's beats in a way that is not reminiscent of  O.C. or anyone. At every turn Celph assures us that his penchant for guns and dirty sex is an indisputably authentic part of an admittedly contrived persona; he spares no detail in describing exactly how he navigated his way from obscurity to minor commercial success. His surreal punchlines test your ability to suspend disbelief but any artistic mystique is crushed under the weight of frank autobiography. Waka sheds light on his interior self in very small but jarringly potent doses while Celph talks your ear off. In both cases I felt as if I was cornered by two very different but equally unruly party guests, only to soon realize that I needed to look no farther than the background music for respite. The fictive pasts that these rappers long for is one in which music brought people together in cramped, tense spaces, if only to fight or stare each other down disapprovingly;17  it's a shame that the discussion surrounding the two albums is so coldly passive-aggressive.
Let's all lighten up and agree to enjoy the tracks at the top of the post for what they are.18 Â — Thun
Tags: analysis, Buckwild, celph titled, j-zone, thun, tim dog, waka flocka flame
---------------------------------------------------------------