Dre has a ghost lyricist. GASP! its true! but no one cares, because everyone knows.
Dre has ghost producers. GASP! its true! but, again, no one cares, but because we secretly do not want to believe.
Yes, although it is known that Dre has a whole slew of producers in his Batcave vomiting beat after beat while get drunk offa that Aftermath Fame, it isn't as well known just to what extent does he have to depend on these stilts to walk his walk.
Let's do this chronic-logically.
The starting point to Dre's career was this electro-rap group formed by a club owner to be a mobile DJ Crew. Even from conception, this group wasn't supposed to be a Dre product, but some people might think that, so in all fairness, let's just say it now. IT WAS NOT A DRE PRODUCED GROUP. The club owner was Lonzo Williams, and his name appears in the production of many of the groups singles. But, we will see Andre Young's credit appear quite a few times throughout the crew's discography with this: "Written-by, Drum Programming [Dmx]". Little side note, the Dre-rapped single "Cabbage Patch" would be when Cube would start his ghostwriting career for Dre.
This era's verdict: Dre probably spent more time learning about machines and beat making than women and love making.
World Class Wreckin Cru
This one is harder to believe because not too many people have any faith in DJ Yella. Is it his pornstar moustache? We know that D.O.C. was in there ghostwriting, so maybe there was someone else ghostproducing? Mike Lezan, better known as the Arabian Prince was the producer for JJ Fad's biggest single "Supersonic", plus his electro sounds pretty much match the sound of most of NWA and the Posse's first album.
But judging by the electric bass heavy sounds of "A Bitch is a Bitch", I think Dre must have been moving away from that into what would sound more like "Express Yourself". Into the world of funk and soul samples. And, thus into recreating samples. And thus, into using musicians. You might remember Stan the Guitar Man. On Eazy's "Radio" he asks "I play guitar on this record, when am I gonna get paid motherfuk*". This is definitely the moment where Dre starts to rely on musicians to help out. Yella's drums are a constant during these years. And we still shouldn't count out Yella in the production background, as "Alwayz Into Something", "Express Yourself", "Dopeman", "Boz in the Hood" all have his name in the production credits. I would love to stretch out Yella's actual influence into Dre's game, but the only common denominator between their sounds post-NWA is that same G-Funk found over every single west coast record during the late 90's, sounds that NWA actually didn't ever really live off of.
The only other producer that was around in that era was Cold187um (who we will get to within the next 3 seconds of your life).
This era's verdict: Dre was nice enough to put "co-produced by Yella" so he wouldn't cry.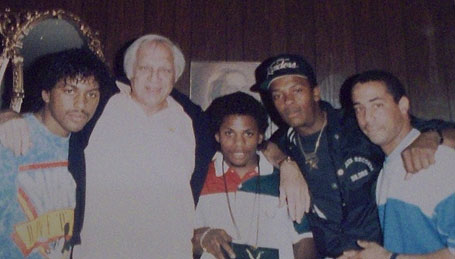 Arabian Prince, Heller, Eazy, Dre, Yella
Cold 187um, aka Big Hutch, from Above the Law, had a song with Kokane called "Don't Bite the Phunk" where he clearly disses Dre from stealing his G Funk sound that he exploits the shit out of on The Chronic. Being a big "Black Mafia Life" fan, I can attest to the fact that it's true that Hutch was using the same sounds before Dre was, but I have to admit that Dre has his own twist to it. He has cleaner key's and instrumentation in general. He is also working with quite a few people in production now. Soopafly. Sam Sneed. Daz. Warren G.
There are countless interviews where Daz claims that Dre jacked his music, including "All my Niggaz and Bitches" from Doggystyle. But in other interviews, Daz has expressed how much he learned from Dre during the making of Chronic and DoggyStyle.
Warren G only started getting production credits after Dre was gone from the label.
Soopalfy mostly grew in this era into becoming a producer after this album, but his instruments were in quite a few Deathrow records.
Sam Sneed also came after the Chronic lit the whole west coast on fire. He co-produced "Keep Your Heads Ringing" and "Natural Born Killaz".
This era's verdict: Dre had a lot of keen weed carriers that would later learn how to produce.
Deathrow Dre
Now it's no longer fair to judge Dre as a producer, because he no longer is that! He is now a record label CEO. Sure he is his own hottest commodity, but he can afford to walk around pointing good things out and pfff'ing bad things. He can afford to have a producer roster on his label. The roster includes Denaun Porter (hiphop production's most boring name), DJ Khalil, Mel-Man, Mike Elizondo, Hi-Tek, Mark Batson, Che Vicious and probably a good 20 more that are in charge of bringing hot coffee and turning the studio lights off at night. The only problem this time around with Dre is that he 's basically signing his name on everything, even though even the simplest minds can tell that it ISN'T a Dre beat. We kind of proved how Dre was very "influenced" by Mel-Man's production on Chronic 2001 with a comparison of Mel's solo work with Dre's second solo album.
But he has only had one album since 1999, so checking each individual production he has done for Eminem, 50, Busta, Rae, etc. is basically just looking into each individual song credit role and checking for all the instrumentation and realizing that Dre has become more of a symphony orhecstrator than a "beatmaker".
One example: Busta Ryhmes "How We Do It Over Here". Produced by Dr.Dre, Keyboards – Che Vicious. So, is this a classic example of Dre glossing over and putting finishing touches over Che's work?
Another example: Eminem "Hello". Produed by Dr.Dre. Produced by Mark Batson. Yup. The credits say both.
This era's verdict: Dre's getting by with ALOT of help from his friends.
Dre, Che, Batson
The next era's future prediction: None. It will never exist. Instead, Dre will get into furniture design. He will be the first to own a theater with each individual seat with subwoofers under the seats and tweeters in the head rests.
______________________________________________
What's the bottom line though? Alot of people hate on Dre gratuitously supposing that he just depends on his co-producers like stilts to walk his walk. Including me. But after delving deep into his credits… I gotta admit that not only did he do alot by himself, he also gave opportunities to a lot of talented cats who would almost all AFTER become legends in their own niches. But before Dre, most were beatmakers. Dre taught them how to become producers.
And thats another important point completely. Only in hiphop do we expect every simple sample-over-beat-beatmaker to be a producer and vice versa. In every other music genre, the writers bring their music to a professional who details it all to its maximum capacity and thus carries that title "PRODUCER", distinguishing himself from the other "songwriters".
— Cenzi Stiles
Tags: aftermath, cenzi stiles, chronic, dr dre
---------------------------------------------------------------