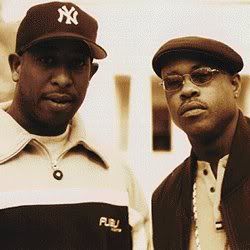 Fuck showers and flowers. April is in fact Gang Starr Month here at T.R.O.Y. Tomorrow you're getting two Gang Starr posts in one day, and another two will be arriving on Thursday. And more will be coming down the pike all month. So we had a meeting and asked, how do we get the readers involved?
Well, it's simple. In this journey we're the journal and you're the journalists. We're posing the question to you:
"Where were you when you heard a Gang Starr song for the first time?"
Towards the end of the month we'll publish the responses. There are several ways to enter:
1) Simply reply to this thread.
Please keep your response to one sentence. We look forward to reading and publishing them. Forward this call any way you know how.
*Don't forget to vote in the "Which is your fave Gang Starr video" poll in the right sidebar.
Tags: announcement, gang starr, gang starr month april 09
---------------------------------------------------------------