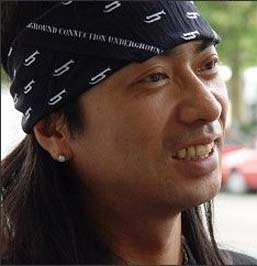 This post is dedicated to DJ Honda, "the DJ, not the car" as the great Sadat X once made a point of mentioning. You see, Honda is a DJ and producer
par excellence
. He demonstrates an admirable commitment to working with skilled vocalists (from Grand Puba to Jeru to Redman to De La Soul), regardless of whether or not they fill out arenas or make records that go platinum. The instrumentals he crafts for these legendary emcees match their flows perfectly while retaining a style that is unmistakably his own; he is one of those producers with a sound you can pick out in seconds. And yet, I feel that his accomplishments are not widely known. It seems that "Travellin' Man" (featuring the "mighty" if
woefully misinformed
Mos Def) is the only piece of music associated with DJ Honda that anyone seems to remember.
His bio
is comprised mostly of the stuff hip hop legends are made of. His
DJ Honda was born in Hokkaido, Japan and moved to Tokyo at age 17 to pursue his dream of playing in an American influenced rock band. He started a band called, "Clique" as the vocalist & guitarist. However, the band struggled and honda was forced to seek additional employment. He began DJing in a small nearby city, Shizuoka where he was first introduced to hip hop music and various turntable techniques, including scratching. While toiling at perfecting his scratching technique, he created a popular name for himself as a DJ, leading to premiere gigs in Tokyo's largest clubs. He also appeared on Tokyo radio stations and remixed popular tracks for local record companies. Tokyo was also important because it was the place where dj honda would cultivate many valuable relationships with people like Afrika Bambaata and the Universal Zulu Nation, as well as some of the emcees who would later appear on his self-titled debut LP.

On honda's first album self-titled, "h, dj honda" successfully communicated fluid cohesion between the producer and the artist and was released in Japanese version (1995) & U.S. Version (1996).

On dj honda's second album, " h II" (Japan Version) (U.S. Version), he again championed with a few players from the first team, some rookies, and a couple of all-star veterans.

In Fall 1998, due to differences in creative vision, dj honda parted ways with Sony Music Entertainment (Japan) to eventually launch his own independent record label, dj honda RECORDINGS.

n late 2004, dj honda introduced dhf Films, Inc. (US) (JAPAN), a new film production company whose first film project, REASON was showcased in 2 film festivals: Tokyo Fantastic International Film Festival on October 14, 2004 and in H20 International Film Festival on November 5, 2004. REASON is a documentary film which chronicles the life and career of dj honda from 1992 New Music Seminar Battle for World Supremacy to present. Two versions of REASON will be produced: Japanese & English.
For all intents and purposes, hip hop listeners are probably more acquainted with weakly tricked-out Accords than the discography of the man that many consider to be one of the greatest Japanese DJ/producers of all time. Fortunately, back at the
T.R.O.Y. Forum
, a regular hailing from Germany named
Boogs
noticed the dearth of discussion surrounding Honda. Rather than theorize some xenophobic conspiracy against non-U.S. artists, he did the right thing and started a thread that sought to introduce the forum populace to the man's work, including remixes, and hard to find Japanese and Korean bonus tracks. Here are all of the uploads that appeared in the thread, organized together in a single mediafire folder for convenience; click on titles for track lists and further information.
Folder Contents:
DJ Honda – Remixes
DJ Honda – Japanese and Korean Rarities
DJ Honda/PMD – Underground Connection
DJ Honda recorded an album with longtime collaborator Problemz that dropped on March 4th, 2009. Here is the trailer for it:
— Thun
---------------------------------------------------------------