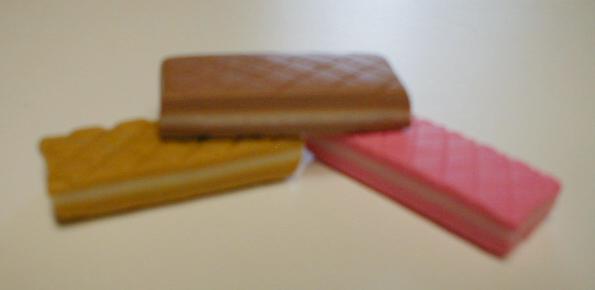 "
I hope one of his peoples could hook him up with a tri-pack/ That's three different flavors/ Chocolate, vanilla, and strawberry wafers
" –Â 
MF Doom
, "Kookies"
I loather to wander into the eternal debate over whether or not artists should feel obligated to indulge in proscriptive propaganda. However, I find myself drawn to songs that describe the nearly unintelligible sense of helplessness when one lives in fear of getting got. I can recount dozens that accurately depict the frustration attached to living righteously in a degenerate milieu. The best ones comment further on the unfounded but understandable sense of superiority one feels when examining the life decisions made by those embroiled in the street life.
Such efforts feel appreciably 
human, 
and their messengers seem that much more likable. Rapped responses to social disorder are typically unsatisfying as policy recommendations but supremely superb as songs.

Few

citizens are equipped to dole out nightly vigilante justice or work proactively to alleviate the root causes of crime

. It is thus refreshing to know that my favorite musical genre rarely shies away from engaging current events in explicit but creative ways. Critics of rap who remain horrified at the genre's fixation on violence routinely fail to share my appreciation, but that's another discussion for another time.
Main Source's "Peace Is Not The Word To Play" is every bit an intellectual exercise as any rap song revered by the literati. The bespectacled rapping producer Large Professor flips not only the music of his sample source but also the theme of said record. He engages in virtuosic observational wordplay, invoking multiple uses of the word and its homophones at every turn. But the song's brainy approach does not distract from its core of torment. Large Pro decries the reduction of the peace sign and greeting to a ubiquitous yet morbidly ironic reminder that the post-
D.A.I.S.Y.
times are fucked the fucked up. His exasperation at man's indecency and hypocrisy is tangible.
EST of
Three Times Dope
is similarly bewildered by the situation in his native Philadelphia, which in the late '80s and early '90s boasted a murder rate three times as high as New York City. The self-proclaimed "greatest man alive" is decidedly less avuncular than Large Pro, opting to speak to his audience more as a streetwise everyman than a neighborhood activist. His instructions are simple: sit back and soak in his pragmatic yet flavorful message of brotherhood. It's hard to take issue with his reasoning. The song's laid back vibe can win you over, as if designed to tranquilize, and the choice to sample two slain peace lovers (Marvin Gaye and Martin Luther King, Jr.) is mighty clever.
Guru never eschews soapbox speechifying, but "Soliloquy of Chaos" is a change of pace nonetheless. His commentary focuses narrowly on the type of violence that erupts at rap shows. He expresses concern and outrage without breaking character or resorting to a reactionary anti-youth pose. Much like EST, he appeals to common sense and shared values to champion peaceful living, suggesting that violence only succeeds in ruining a good time. Like Large Pro, he registers just enough disgust at knuckleheads to seem authoritative, and one is inclined to take his plea seriously. While I doubt that these songs actually stop career hoodlums from mixing it up, they remain relevant to those of us who have no choice but to navigate our living spaces with caution and restraint while the usually suspected unseen forces and trends do what they do. 
And they're really, really dope. Â — Thun
Related Posts:
Tags: analysis, gang starr, main source, three times dope, thun, tri-pack wafer
---------------------------------------------------------------