Top 10 Cali 90's Joints That You Probably Can't Find
by Superstar Quamallah


1. "To Whom It May Concern" (compilation)/ Freestyle Fellowship:
Microphone Myke as i knew him was doing shit on this album that cats ain't never been able to even bite! i saw him freestyle over "mo' better blues"at the good life cafe doing a style that was so ahead of it's time, it would take a worm hole for mcs to check it! this album, which they put out themselves in 1991, was a catalyst and a much have for any true collector of the music. find it!
2. The '93 til Infinity DEMO/ Souls of Mischief:
I got this joint on a cassette tape and i remember when they were putting the joint together to catch their deal. i rolled up to del's (the funky homosapien) house with andre (the emperor) and adam (A-plus) was laying scratches for the last song. they got some joints on this cassette that never came out or were different versions like "never no more" is different and crazy fresh yo!
maybe somebody got this on ebay but i doubt it!
3. Barber Shop MC's DEMO/ Barber Shop MCS:
not sure if this was a demo but i remember defari letting me hear these cats and i was like this cat phil tha agony is sick to def!!! i can't find that cassette i had, but these joints were so ahead of their time as well.
4. "Change and Switch"/ Defari:
this joint is a personal fav because i remember heru asked me to lay the scratches on this cut and we did it at kutmaster kurt's crib and a young evidence, who made the beat i believe, was there chillin and i thought damn these some cool dudes. i told heru that that song was the joint and a few months later it was the b-side as one of the first records to launch abb records in 1997.
5. Planet Asia EP/ Planet Asia:
man what can i say about my man asia that ain't already been said. this was one of the hungriest mcs i've ever met and he still gets it in! this joint was released on heratik records in 1998 and if you can find a copy, you done came up!
6. "People's Choice"/Defari:
gotta mention this joint cause it's one of my favorite underground singles man that really set off that classic evidence heru connection and heru's offbeat on flow on this was classic and spawned
a lot of imitators whether people recognize or not. i remember when beni played the acetate for me at kalx, i was like – "wheeeeeeew weeeeee….classic!"
7. "The Hiero vs. Hobo Junction (Saafir) Battle"/:
this is one of the greatest and most enjoyable mc battles ever done on the radio and i know
copies are floating around! this was easily one of saafir and casual's greatest off the head lyrical drudge matches and nobody from both sides on the mic was a disappointment! it went down around 1994 and you can't say nothing about cali mcs if you never heard this battle! a historical moment fo' sho'!!!
8. Del tha Funky Homosapien DEMO:
i met del in 1988/89 in berkeley. he'soriginally from new york and he had the mc skills to pay the bills way back then as a shorty! but his music production was through the roof. his
sampling abilities were ahead of his time and when he got his deal, i believe his cousin ice cube had a major influence on the style and sound of his first album. but his shit i got on some cassette tapes would be compared to current shit mf doom is doing. del is definitely from another
planet and cats ain't getting copies of the shit i got with him on it! lol
9. RIP Government/ Stevie Jay, Velvet B, Adam (Buck), and more:
these cats put a record out and my joint is in storage so i don't remember the name
but they were all from nyc and living in south central los angeles back in the late 80's. they was doing shit to break beats before cats was on that out in cali and had hooked up with whipple whip, the original. these cats had a major influence on cats within jurassic five as well as many others whom they shared rhyme cyphers wit. if you can find this record (rip government is the name of the crew) then i salute you!
10. "JazzHopSoul"/ Clever Jeff:
this is actually my favorite hiphop album by a cali artist and one of the most underrated or slept on joints for anyone who digs pete rock& cl smooth or gang starr! this cat was one of
the first to perfect the jazz soul hiphop fusion and was working with quincy jones' label but they didn't know how to promote the project back in 1994. clever is at his best on this lyrically with smooth knowledge and those 90's jazzy joints i can never get enough of! a must have for anyone
serious about the music!
-Quamallah
If you don't have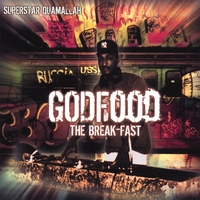 you can cop it here!
Tags: blog, casual, defari, del, freestyle fellowship, guest blogger, philaflava, planet asia, saafir, souls of mischief, superstar quamallah
---------------------------------------------------------------